East Dulwich Tabernacle Sunday School and Bible Classes provide children and young people with traditional Christian foundations for life.
Every Sunday 3 till 4pm
Ages 3 to 18
Bible and College Classes for those in Secondary School and College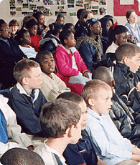 Children growing up in today's society enjoy many benefits. Never has a generation enjoyed so many opportunities to learn, play and to explore the world around them. However, in a secular and atheistic age such as this, we believe that the most vital part of a child - the soul - is being greatly neglected, leading to moral confusion and a real sense of inner emptiness.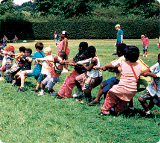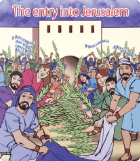 Therefore, we believe Sunday School work is vital. We aim to teach children the timeless lessons of the Bible and its values, especially the life and teaching of Jesus Christ, and the great people of the Bible such as Moses, Joseph, David, Ruth and Paul. Modern teaching aids and illustrations are used, which children enjoy.
Each week the main lesson is accompanied by a range of activities including singing, quizzes and special items. The children are given a take-home leaflet, so parents know what their children have been taught. Your child will receive a free Bible after six weeks' attendance and we run a reward scheme for attendance and good behaviour.

Once a year we take the Sunday School on an outing. We also hold an annual Prizegiving to which all parents are invited. Many children who attend Sunday School regularly also enjoy our weeknight meetings held during term time. There is a time of recreation followed by a talk on a moral and spiritual theme.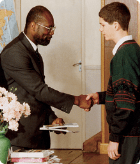 Why not encourage your children to attend Sunday School where they can learn the great moral principles of the Bible, and the way to faith for themselves?
Absolutely FREE!
No fees,
just come along