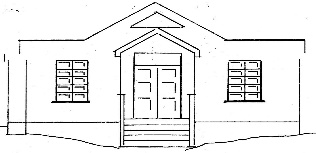 On January 27th, we celebrated the anniversary of East Dulwich Tabernacle Baptist Church. It was founded in 1877 by a group of Christian friends who held to the Doctrines of Grace and Baptist principles (1689 Confession of Faith, being a Society of Protestant Dissenters called Particular or Calvinistic Baptists).
A church with a capacity for 350 was erected in 1882. The Lord's people meeting at this place rejoiced in seeing souls seeking the Saviour with 37 baptised in one year and a membership of 85 in the years leading up to 1914.
A large Sunday School hall was added in 1928 but in 1937 the church suffered a setback when it was demolished due to a structural fault. In the summer of 1944, during the Second World War, an enemy bomb completely destroyed the Sunday School hall. For the next seven years, meetings of divine worship were conducted in a house. In 1951 a new chapel was built and this was extended in 1990 to the structure in existence today.
We thank the Lord that through the following years He maintained His witness in the East Dulwich area. Though, for a season, the congregations were small and the workers were few, what they lacked in numbers they made up for in faithfulness. The Lord heard and answered their prayers and, in His goodness, the church did not close.
Pastor Haile Emiru was called in 2011 and under his faithful ministry based on Biblical principles (Baptist 1689 Confession of Faith and Doctrines of Grace), regular Gospel Preaching and evangelical outreach was re-established and the children's Sunday School work restarted. Spiritual life began to flourish again at this historic site of Christian witness. As attendance increased Pastor Haile had a vision for enlarging the building. Plans were drawn up to extend the building to provide the much needed additional room. In the Lord's goodness Planning Consent was granted in May 2015. In October 2017 the Lord again graciously overruled in granting a waiver to the Community Infrastructure Levy by Southwark Council.
The new building (please refer to plan) will have 5 usable rooms – the Sanctuary seating at least 160, Pastor's office, a kitchen, a back room holding about 40 adults (50 children), a middle room with a max capacity of 45, and an upstairs room seating 40.
Our new Pastor, Darren Cadapen, took over from Pastor Haile in Sept 2015. The church continues with the same evangelical zeal and vision with souls being saved and the membership growing. The Lord has answered our prayers in that, since January 2018, our highest priority has been met – for Pastor to be full time.
Current morning Gospel Service congregations often approach over 100, with Morning School for over 20 children, aged 4 - 10, plus Mother and Baby room. The afternoon Sunday School and Bible Class has attendance ranging from 75 to 90, with 9 classes occupying all available space. All our Lord's Day, and Friday, children's and teenager's evangelical meetings are affected by lack of space. Hence our urgent need to enlarge (please see plan).
The structural design drawings are completed. We engaged an architect who has provided a design review, foundation design, digital drawings etc. We have obtained rough estimates from prospective builders. On April 25th 2018, by the goodness of The Lord we made a small start to the work, thus securing our Planning Consent in perpetuity. We prayerfully await funding.
This leaflet is to inform you of our project, asking that you pray for the Lord's guidance and provision. The current estimated cost is in the region of £1.5M. We now are refining this estimate.
If you are able to make a gift, a Building Fund has been set up. Please contact our treasurer, Mr Simon Boghurst for a Gift Aid Form (if this is appropriate) via email
Account Name - East Dulwich Tabernacle Baptist Church Bank Sort Code 40 02 32 Account Number 21607561 Registered Charity - Number 1170385
Please visit our About Us page for more information about us and the Lord's work in East Dulwich.
The Church Officers and fellowship thank you for your interest and especially for sharing with us in this work with your prayers.